How to Broadcast Live
Download and install any third party broadcasting software such as SAM, Winamp, or butt ("broadcast using this tool") and you are already halfway there! In most cases all you have to do is enter the server IP, port, and password settings, choose your music, and click connect. That's it!
Here's how to login to Centova Cast and find the technical details you need.
Determine if the status of your AutoDJ is on or off.
When the AutoDJ heading is missing from the main menu on the left-hand side of the navigation, the AutoDJ is off. Click Settings and select the AutoDJ tab to confirm.

When the AutoDJ is on the sub menu appears in the main left-hand navigation.

AutoDJ is off
If your AutoDJ is disabled you will find the proper IP/hostname, port, and (source) password under the default Settings tab. You will need to input these details into your streaming software encoder to connect to the server.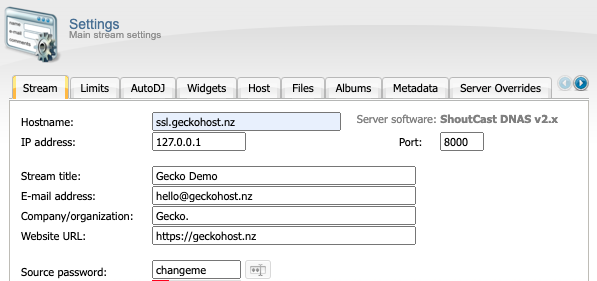 NOTE: Enabling the AutoDJ system is required for giving your DJs restricted access to Centova.
AutoDJ is on
If your AutoDJ is enabled navigate to the Quick Links page.
Now scroll down to the Live Source Connections section where you can find the streaming specifics. This is the information DJs will need to broadcast.
SHOUTcast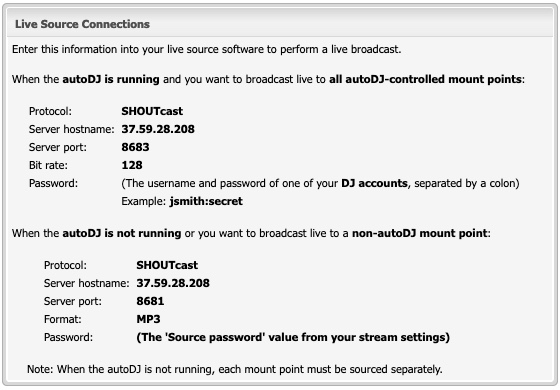 NOTE: The port setting depends on the status of AutoDJ (SHOUTcast only).
IceCast


NOTE: Please connect to the /live mount point setting (IceCast only).
Creating a DJ account is also integral. This will allow you to permit different permissions for individual DJs depending on the level of trust and tech savvy each may possess. Plus, keep passwords private.
This circumvents the outdated need to "kick" sources manually too, as the AutoDJ is capable of automating the process and seamlessly switching back and forth between live DJs and the AutoDJ.
Above are the basics. However, it may be necessary to consult your third party encoder documentation for further instruction in particular cases.
Good luck!